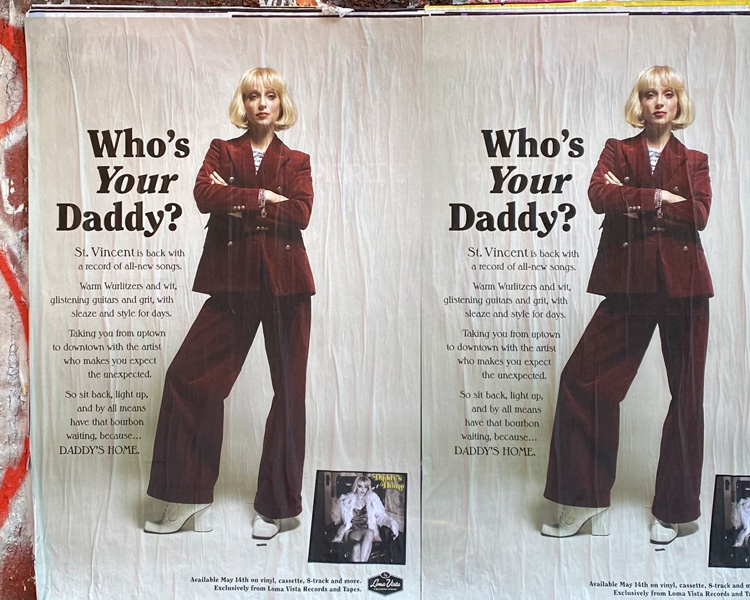 A cantora e compositora Annie Clark (a.k.a. St. Vincent) revela a primeira imagem promocional do sexto registro de estúdio, o sucessor de Masseduction, esperado para o dia 14 de maio pelo selo Loma Vista.
A imagem começou a circular para promover o disco, intitulado Daddy's Home, através das redes sociais e no Reddit. Nela, Clark aparece com um cabelo curto loiro, vestindo um terninho de veludo marrom estilo anos 70 ao lado da capa do disco e um texto com os seguintes dizeres:
"St. Vincent está de volta com um disco de canções totalmente novas. Pianos elétricos quentes e sagacidade, guitarras brilhantes e coragem, com desleixo e estilo por dias (…) com a artista que faz você esperar o inesperado".
Ano passado, St. Vincent revelou alguns detalhes sobre o projeto para a revista Mojo:
"[É] uma mudança tectônica. Senti que tinha ido tão longe quanto podia ir com angularidade. Eu estava interessada em voltar para a música que ouvi mais do que qualquer outra – gravações de Stevie Wonder do início dos anos 70, Sly And The Family Stone. Estudei aos pés daqueles mestres".
O primeiro single "Pay Your Way In Pain", produzido por Jack Antonoff, é esperado para o dia 05 de março.