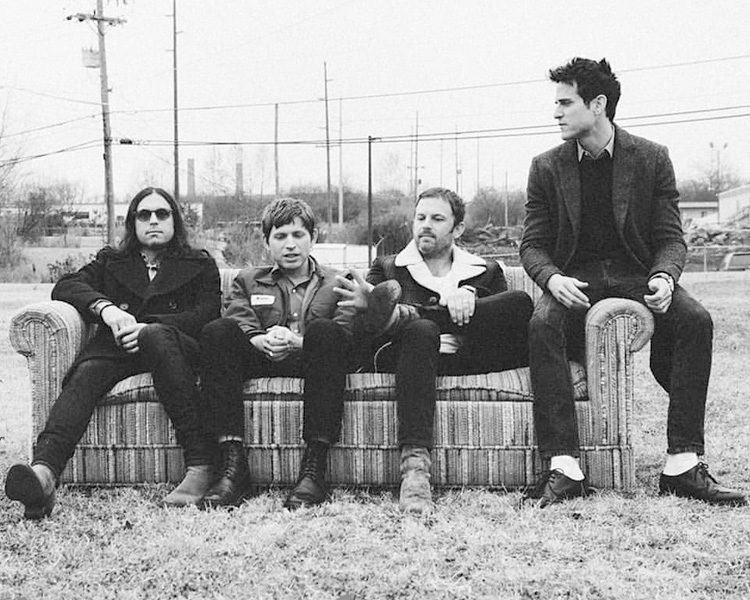 Confira alguns dos principais lançamentos da semana para atualizar a sua playlist de discos favoritos. Entre eles estão os novos trabalhos de: Kings of Leon, Sydney Sprague, Zara Larsson, IAN SWEET, The Vaccines e Deap Vally.
• Kings of Leon – When You See Yourself
(RCA/Sony Music)
Após cinco anos do álbum Walls, o Kings of Leon retorna com o oitavo registro de estúdio. When You See Yourself traz mais uma vez as texturas do produtor Markus Dravs (Coldplay, Arcade Fire), com sua sonoridade pop rock primordial e alvoroçada ("The Bandit", "Echoing"), e uma obsessão extrema por órgãos, sintetizadores analógicos e linhas de guitarras acentuadas. São faixas assertivas, com uma vibração mais sonhadora e um pouco mais profunda, dispostas a manter o método de sucesso da turma de Caleb Followill e agradar os fãs que estão envelhecendo com a banda.
• Sydney Sprague – maybe i will see you at the end of the world
(Rude Records)
O álbum de estreia da cantora e compositora Sydney Sprague é um ode ao "romance milenar" e ao "apocalipse iminente induzido pela ansiedade" como a própria define. São composições escoltadas de nostalgia e reflexões, moldadas em riffs crus e vocais calorosos, onde uma juventude feliz prospera diante de crises ("i refuse to die"), avalia questões existenciais ("object permanence") e lida com dores amorosas ("steve"). maybe i will see you at the end of the world equipondera uma essência dos trabalhos de Phoebe Bridgers e inspiração de atos pop rock do início dos anos 2000, como Avril Lavigne, que o tornam um registro emotivo e distinto.
• Zara Larsson – Poster Girl
(TEN/Sony Music)
A artista pop sueca Zara Larsson apresenta um disco de puro escapismo pop. Poster Girl é uma coleção pródiga de canções que exploram temas como amor e empoderamento. Algumas composições são sonoramente mais inventivas (como "Love Me Land" com suas pulsações agudas e cordas dramáticas), enquanto outras buscam por elementos nostálgicos do funky ("Need Someone", "FFF"), disco ("Look What you Done"), R&B ("Right Here") e números eletrônicos sufocantes ("WOW") numa celebração da música pop e suas mensagens.
• IAN SWEET – Show Me How You Disappear
(Polyvinyl Records)
Show Me How You Disappear é um exercício de auto perdão e uma percepção final de traumas não resolvidos ("Drink The Lake"). O terceiro registro de Jilian Medford, como IAN SWEET, entende-se em um momento agudo de sua vida, desde uma crise de saúde mental até um processo de cura intensivo e o que vem depois. São melodias atordoantes exploradas num som acústico sinuoso e sintetizado ("Sing Till I Cry") complementado pelo vocal visceral da artista que soa alguém batalhando consigo ("Sword") e recompondo-se ("Power") para lembrar de como viver.
• The Vaccines – Cosy Karaoke, Vol. 1
(AWAL)
Os integrantes do The Vaccines mantiveram-se ocupados durante o período de isolamento social e gravaram uma série de covers que renderam o EP Cosy Karaoke, Vol. 1. O projeto conta com um olhar ajuizadopara clássicos como "No One Knows" (do Queens of the Stone Age), "High Horse" (de Kacey Musgraves), "Fire" (do Waxahatchee), "For What It's Worth" do (Buffalo Springfield), "Funnel Love" (de Wanda Jackson) e o pop sci-fi instrumental "Telstar" (do The Tornados).
• Deap Vally – Digital Dream
(Cooking Vinyl)
Depois de formarem o supergrupo Deap Lips com os integrantes do Flaming Lips, as roqueiras do Deap Vally voltam com o EP Digital Dream e um time de famosos como Peaches, KT Tunstall, Jamie Hince (do The Kills), Soko e Jenny Lee Lindberg (do Warpaint). O trabalho é uma forma das garotas inventarem mais uma vez o seu modelo de processo criativo e apostarem numa diversidade de sons com diferentes colaboradores.