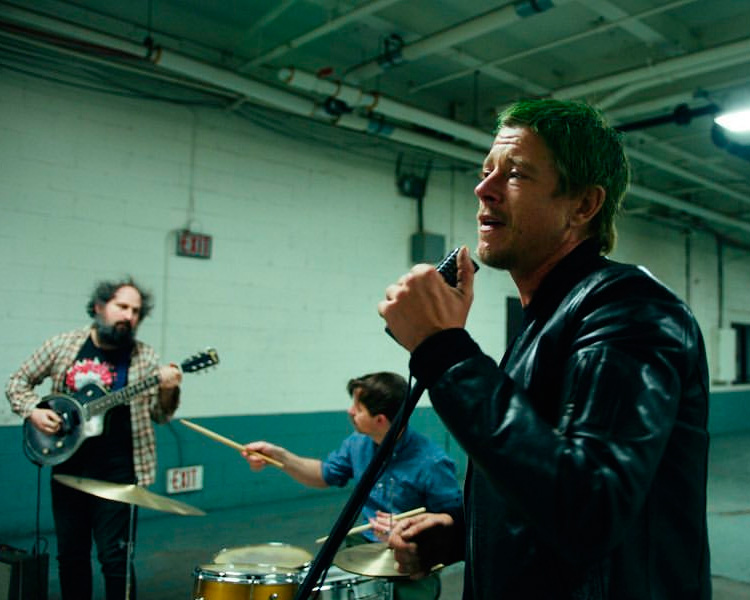 Confira alguns dos principais lançamentos da semana para atualizar a sua playlist de discos favoritos. Entre eles estão os novos trabalhos de: Muzz, Sondre Lerche, Hinds, Westerman, LA Priest e No Age.
• Muzz – Muzz
(Matador Records)
Muzz é o "casamento musical" de Paul Banks (do Interpol), o baterista Matt Barrick (do The Walkmen e Fleet Foxes) e o multi-instrumentista Josh Kaufman (do Bonny Light Horseman e Day of the Dead). Uma colaboração genuína, nascida de uma longa amizade. Escrito, arranjado e realizado pelo trio, o trabalho é sombrio e bonito, expansivo ("Knuckleduster") e comovente ("Broken Tambourine"), carregado de uma força cósmica. São produções que embarcam num rock magnífico de guitarras ecoantes, percussão vagarosa e instrumentos de sopro imponentes, com traços dos trabalhos de Barrick e Kaufman, além de soar como um Interpol influenciado pelo The National ("Red Western Sky" e "Bad Feeling").
• Sondre Lerche – Patience
(PLZ)
O cantor e compositor indie pop norueguês Sondre Lerche lança o nono disco da carreira, um registro inspirado pela sensação de espaço e tempo ("That's All There Is") associado à música ambiente e ao minimalismo. São composições que retratam romances frustrados, sentimentos de vulnerabilidade ("Why Would I Let You Go") e temas conflitantes ("You Are Not Who I Thought I Was") em melodias agraciadas por uma melancolia ímpar e excitação nas deslumbrantes orquestrações ("You Are Not Who I Thought I Was").
• Hinds – The Prettiest Curse
(Lucky Number Music)
Com The Prettiest Curse, as roqueiras espanholas do Hinds abandonam as raízes indie lo-fi dos discos anteriores e procuram "limpar esteticamente" seu rock de garagem na companhia do produtor Jenn Decilveo (Bat for Lashes, Anne-Marie). Numa nova e corajosa direção da banda (como "Riding Solo" que lembra M.I.A.), as melodias geniais das meninas carregam temas devastadores de isolamento, relacionamento, traições e empoderamento feminino – como "Just Like Kids (Miau)", uma resposta a todos comentários sexistas que receberam ao longo da carreira
• Westerman – Your Hero Is Not Dead
(PIAS)
O disco de estreia do londrino Will Westerman (a.k.a. Westerman) apresenta uma coleção de baladas alt-pop complexas e mansas. Elas flutuam por gêneros rastreados nos anos 80 através de sintetizadores atmosféricos, guitarras ponderadas e percussão alinhada. Como um jovem Peter Gabriel, as músicas de Westerman ficam entre o soft rock astuto ("Waiting On Design"), o yatch rock, o pop eletrônico confessional ("Think I'll Stay") e politicamente consciente ("Blue Comanche").
• LA Priest – GENE
(Domino Recordings)
O músico Sam Eastgate, ex-integrante do Late of the Pier e detentor do LA Priest, volta com o segundo disco após cinco anos da estreia. Sua sonoridade eletrônica inventiva – armada por uma bateria eletrônica construída por ele – flerta com psicodelia, funk ("Rubber Sky") e pop bucólico cósmico de maneira sedutora e insistente ("What Moves"). GENE é musicalmente um filho rebelde sem causa do Boards Of Canada e do MGMT.
• No Age – Goons Be Gone
(Drag City)
O rock estrondoso e catártico de guitarras arranhadas e batidas cruas do duo No Age volta com sua sonoridade extraordinariamente espessa, delirante e desorientadora ("Head Sport Full Face"). Goons Be Gone é tão cacofônico, tão fértil e tão maduro com o som que analisar as suas composições, efeitos e várias camadas de guitarra é quase impossível desenhar o caos imaginado e pretendido por Randy Randall e Dean Allen Spunt nas onze músicas.